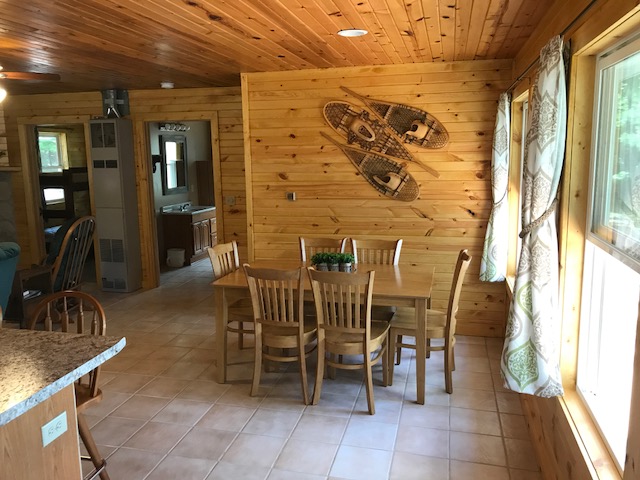 Families, couples, kids, and adults all love our retreat cottages! Located on the shores of Range Line Lake, our two and three bedroom housekeeping cottages provide the perfect retreat get-a-way for an individual retreat, romantic weekend, or reunion with family and friends.
All recreational equipment and facilities are provided FREE OF CHARGE. Some activities require staff supervision and/or are available only during scheduled times.
Spend your days experiencing the many activities that Camp Luther has to offer, or visit a variety of shops and boutiques in Three Lakes and Eagle River. If you're a bit more adventurous, bike the Three-Eagle Trail or explore miles of rolling hills and beautiful scenery in the Nicolet National Forest. Spend your evenings enjoying one of the fabulous restaurants in the area or stay in and create your own meals in the fully equipped kitchen. Complete your relaxing day with a walk along the lake trail or put your feet up on your cottage porch and watch the sun set. Cuddle up with a book next to your cottage fireplace or enjoy an outdoor campfire.
What you won't find at a Camp Luther cottage are video games, radios, TVs or computers (although we do offer free wifi). This retreat is about relaxing in the midst of God's beautiful creation. We want you to enjoy the blessings of being separated from the stresses of your everyday life. We hope this provides a unique and valuable experience for our guests.
Each of our 15 cottages is fully furnished and equipped:
Bathroom with Shower / Living Room / Fully Equipped Kitchen / Picnic Table / Charcoal Grill / 12' Rowboat / Walk-Out Pier / Stove, Refrigerator / Small Kitchen Appliances
Camp Luther is excited to offer four units available for rental at Keweenaw Base Camp. Each of these units are comfortably furnished with all that you need for a relaxing stay in the Keweenaw. Each has fully equipped kitchens with everything you need to prepare meals during your stay and gas grills for your evening cookouts. Each also has wood stoves to take the edge off of those cool Keweenaw nights.
During the summer season, the Camp Luther staff directs a Family Camp program of activities and events for all cottage guests. The activity schedule allows individuals and families the option to participate as much or as little as they feel comfortable. Check out our activities page for all the program options.
June 8 - August 17, 2019
$966/week (2 bedroom); $1176/week (3 bedroom)
Call about the Waiting List for this popular program. Remember Week 2 is the first week with Family Camp Programming. Please see Retreat Season Registration Policies below before making any payments.
Camp Luther is blessed to be able to offer the following to full time professional church workers:
FREE 2-Night Cottage Retreat
(During First Year in the NWD only)
During their first year in the North Wisconsin District, full time professional church workers are offered a FREE 2-night cottage retreat at Camp Luther.
This is for use any two consecutive nights.

This cannot to be used in conjunction with any Camp Luther program or other offer.

Cottages are available on a first come—first served basis.

These retreats are for use after Labor Day Weekend and before Memorial Day Weekend. Cottages may be limited due to other usage or program needs.
FREE Mid-Week Church Worker Cottage Retreats
As part of our efforts to support healthy church workers, healthy church worker marriages and families, Camp Luther offers FREE cottage retreats to full time professional church workers and their family. Here are the details:
Cottages are available from Monday afternoon through Thursday evening. Maximum two consecutive nights

There is no cost, however guests are welcome to make a donation to cover cleaning and utility expenses.

All regular reservation policies apply.

These are intended for full-time church workers and immediate family only.

Maximum of one use per retreat season (Sept-May)

No program or meals are offered.

This cannot to be used in conjunction with any Camp Luther program or other offer.
We hope you enjoy your cottage and use this opportunity to rest and rejuvenate with your spouse and family at Camp Luther.
Reduced Rate Cottage Rentals
Cottages are available to full time professional church workers at a reduced rate of $75 per night
Available after Labor Day Weekend and before Memorial Day Weekend

Not to be used in conjunction with another camp program or event

One night's rate is required to hold the reservation as a non-refundable deposit

All regular reservation policies apply.